Play to Earn Game Similar to Farmville: Town Star vs. Farmville
Town Star reward structures have changed recently. I will be updating the content below to match the currently reality.
Please recognize

that some content on this page is not accurate.

Town Star is a play to earn game similar to Farmville.
Town Star & Farmville Both:
Are free to play

Have a very similar game play premise

Are created by the same Zynga Games team 
The main difference is you can't earn money playing Farmville but you can earn money playing Town Star.
Users literally play Town Star and earn real-life money, paid out daily or after a competition.
Also, Town Star has more advanced game play, set of rules and features.
So if you are looking for a play to earn game similar to Farmville, Town Star is your game.
Can I Really Earn Money Playing Town Star?
YES!
When I first heard about Town Star I thought it was too good to be true to be able to earn real life money playing a video game.
I didn't understand it.
It seemed like another hook, line, and sinker to get me to play some stupid video game.
As a result, I didn't really pay much attention to it.
Months later… My friend on Discord told me that he earns real-life money playing Town Star.
Once I understood how real this was, I immediately started kicking myself because I could have been earning a lot more money as an early player but lost out because I put it off.
After my Discord conversation, I immediately went to my PC to see if could really earn money by playing Town Star.
Is It Too Late For Me To Earn Money Playing Town Star? | Farmville vs. Town Star
NO!
Luckily there is approx. > 3,000 monthly users playing Town Star.
Think about this; Town Star is similar to Farmville. Farmville had up to 83M monthly users. And players can't even earn money by playing Farmville.
So, no… It's not too late!
At first, I felt like I totally missed out on a ground-level opportunity but after I did some research we are still at the beginning stages. (4/10/23)
But that won't last long. Town Star is gaining some traction just like Farmville did, so don't miss out!
Scroll down to learn how to make passive income playing Town Star Step–By–Step.
Town Star & Farmville Created By The Zynga Games Folks
Town Star is the best play to earn game similar to Farmville because it was created by the founders who were crucial to Zynga Games' success; (Mark Saggs, Eric Schiermeyer & developer Michael McCarthy). 
Farmville was also created by Zynga Games & was played by millions of people around the world. It was one of the first games to achieve widespread success on the Facebook platform.
Think about the opportunity you have right now… Playing Town Star and earning before it's userbase/market gets saturated is huge! It's kind of similar to (on a smaller scale) buying Bitcoin $BTC at the very beginning when it was only $76.00-$150.00.
The fact that the owners of Zynga are involved in the development of Town Star is a positive factor in the game's success. They have the experience and expertise in creating popular and engaging games like Farmville, City Ville, Words With Friends, Words With Friends 2, and many many more…

How Do I Earn Real Life Money Playing Town Star?
Step

–

By

–

Step
Step 1: Created a Gala Games Profile.
Step 2: Go through the setup prompts and use the following invitation code: 63d4afa291b380227987d300 (please use my code as a "thank you" for introducing this opportunity to you).
Step 3: Secure your account because you will hold your funds, NFT's and rewards in your Gala crypto wallet or you can connect your MetaMask wallet.
Step 4: Buy at least one NFT that rewards you in Town Points (TP's) in the Gala Store or on OpenSea. (See NFT list below).
Step 5: Place your Town Star NFT's on your town and play the game. (Scroll down to get exact details).
Step 6: Collect your daily rewards (once every 24 hours).
Step 7: Sell your $GALA for USD cash, $USDT, $BTC or any other currency you like.
Step 8: You can also join Town Star competitions (once every 2 weeks) and earn $GALA and saleable NFT's prizes.
Step 9: Use the Free Town Star Playbook & get good at Town Star. (scroll down for the playbook).
Projected $GALA & Town Star NFTs' Worth
Some speculate that $GALA will be one of the top gaming cryptocurrencies in the world.
In its current infancy stage, $GALA = < $0.05 but it's all time high = $0.74 USD.
I believe the next bull run in 2023-2025 it should be above $1.00. Some say even up to $2.00.
I purchased the Rare Tesla Coil NFT for approx. $1,000 USD value (1/3/23) value. Huge deal since it was purchased in the bear market.
In the last bull run the Rare Tesla Coil NFT sold for $120,000 USD value.
Not all NFT's cost that much and there are NFT's that cost $12-$200.
What NFT's Do I Need To Earn Money On Town Star?
There are many Town Star NFT's to utilize in the game that help you do well in competitions that reward you in $GALA and/or NFT's you can sell on OpenSea.
But in order to earn real life money without participating in competitions you need to have NFT's that have Town Points (TP's) placed within your town during gameplay. Every 24 hours you claim the rewards according to how many Town Points have accumulated with specific NFT's. (See list below).
The more Town Points you earn each day, the more daily money ($GALA) you are rewarded.
Again, you can purchase these NFT ASSETS in the Gala Store or on OpenSea.
You can sell your purchased NFT's down the road and make profits that way as well.
Once Town Star goes viral you should be able to sell your NFT(s) for 2X, 3X, or even 10X the price you pay now. (opinion)
Green Arrows Pointing At Some NFT's That Earn Town Points (TP's)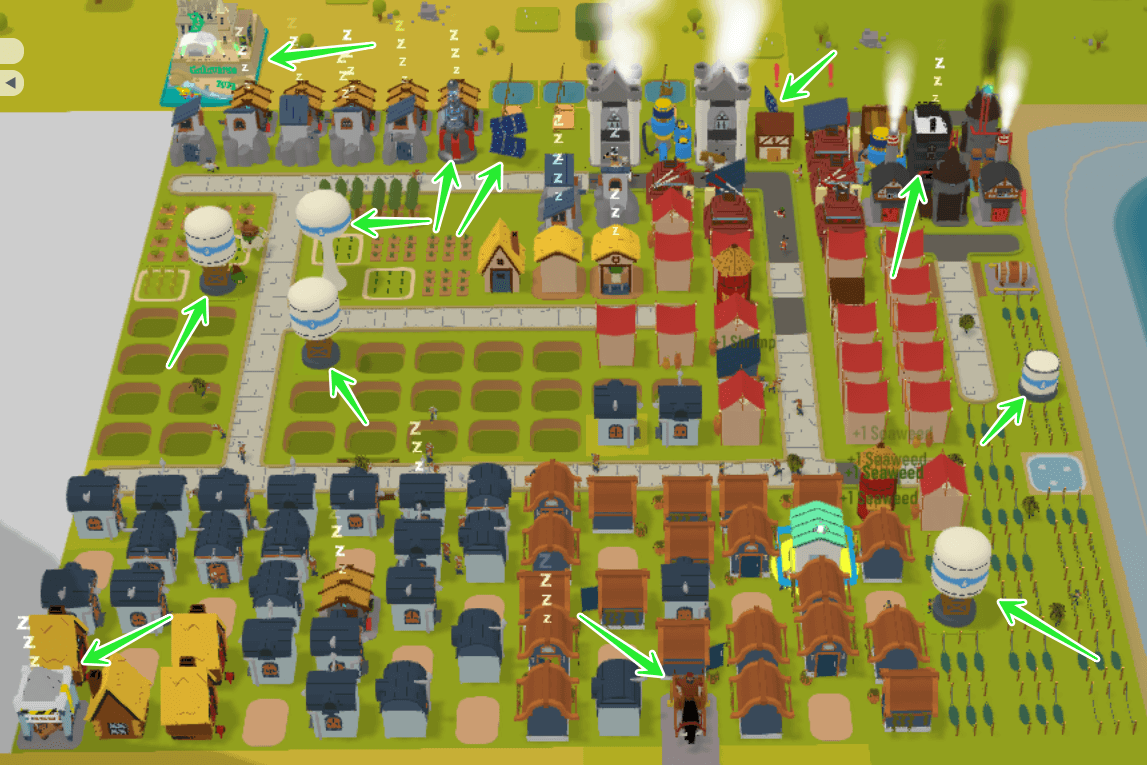 Importance of Accumulating Assets You Can Afford
These Town Star NFT's are assets not just game play toys.
Assets make money, liabilities drain money.
This is a game for the young, the old, the rich the poor.. for EVERONE!.
The Town Star NFT's range between $15 to $600,000.
You earn more daily reward money based on the rarity and value of the NFT's you have placed on your town.
This is great news because in the past you needed a lot of money to buy a house to rent out as an asset or something. Town Star enables you to invest at your current financial level and level up in life as you level up in the Town Star game.
All of this is why I say Town Star is the best play to earn game similar to Farmville by far!
"The difference between the rich and the poor is; the rich spend money on assets, the poor spend money on liabilities."
2 articles for you to learn more about how an why accumulating assets is so important for your financial freedom:
 2. Invest: Get Cash Flow From Income Producing Assets
Read "Town Star's" White Paper To Learn About Its Value & roadmap.
Town Star Playbook:
Free Game Guide

How to Be Good At Town Star, The Best Play to Earn Game Similar to Farmville
Stay up to date on town Star Meta's: Prices of the good and materials change every couple weeks. In order to stay up to date,

you will need the

Live Doc

of the 

Town Star Paybook:

Game Guide

. This guide changes in real time to the game play changes of Town Star.
Plan your town layout: Make sure to plan out the layout of your town in advance, including the placement of buildings, crops, and animals. Optimize your space for maximum efficiency and productivity. Town Star Planning Tool.
Prioritize resource management: Manage your resources wisely, including your coins, seeds, and fertilizer. Make sure to balance your spending and saving to avoid running out of critical resources.
Stay active and log in regularly: The game is designed to reward players who are active and play the game regularly. Make sure to log in every day to check on your crops, animals, and town progress.
Join a community: Join a Town Star community or guild to collaborate with other players and trade resources. Participating in community events can also earn you additional rewards.
Experiment with different strategies: Try out different strategies to see what works best for your playstyle. For example, you could focus on growing high-profit crops, breeding rare animals, or trading resources for profit.
Keep an eye on the market: Stay up-to-date with the market prices of crops and animal products. Sell your goods at the right time to maximize your profits.
Upgrade your buildings: Upgrade your buildings to increase their efficiency and productivity. This will help you produce more goods and earn more coins.
Overall, playing the game regularly, planning your strategy, and staying engaged with the community are all key factors in becoming a successful player in Town Star, the play to earn game similar to Farmville.