Follow us on Twitter @realW3BT for the latest Blockchain/ Crypto TV Broadcast dates & times.
What is SoMee Social & The $SME Token?
SoMee Social (link) is a decentralized social media platform with it's own economic system.
Apparently SoMee uses their $SME token to reward their users for social media activity such as posting, and liking posts (aka "upvoting").
SoMee also claims that their users' data is 100% private and in their control.
Is SoMee Social & The $SME Token Legit Or A Scam?
When I first heard about SoMee Social I wrote it off.
I thought;
"How can I earn money by using social media? That makes no sense."
&
"My information is really kept 100% private & in my control? Yeah right…"
Some time passed and I heard a while later some positive feedback about the SoMee Social Platform & the $SME token.
I decided to sign up and look into it a little bit further for myself.
What I discovered shocked me!
Can I Truly Earn Real Life Money On The SoMee Social Platform?
YES!
As it turns out, you actually are able to earn real-life money every day on SoMee by posting posts and liking other people's posts.
(see image below)
I posted a post on Tuesday February 7th, 2023 at 7:39 pm PST.
As a result, by February 11th, 2023 at 11:47 am PST my post had produced earnings of $12.98 USD worth of $SME token.
As of today (2/11/23), $SME is valued at $0.0002409.
$12.98 in $SME token equals to 53,881 $SME tokens.
$SME is incredibly undervalued right now.
The SoMee team projects that the $SME token will be worth between $0.01 to $0.05 in the very near future.
SoMee has just recently launched and have not even started marketing yet. You are getting a first inside look by reading this article.
When $SME goes to $0.05 the post you see below will be worth $2,694.00 USD.
The reason that post will be worth so much is because I am an early adopter. IF you act today and sign up you will be an early adopter as well.
You can only earn $SME at this level for a limited amount of time, so act now and get those early adopter earnings.
Take a Look At These $SME Token Earnings In USD!: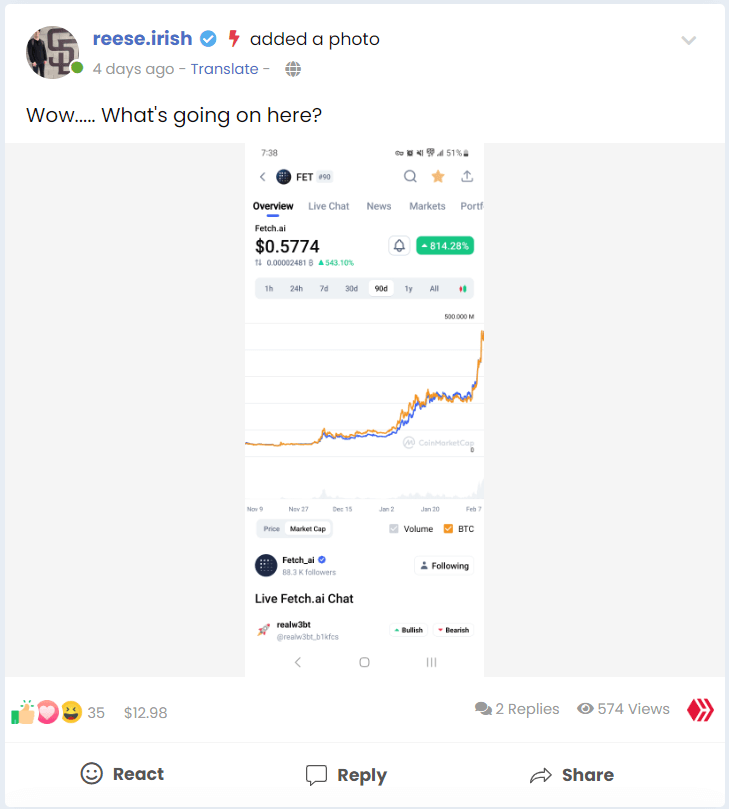 Drop-Down Click Here To See More Posts I Have Earned 1,000's upon $10,000's Of $SME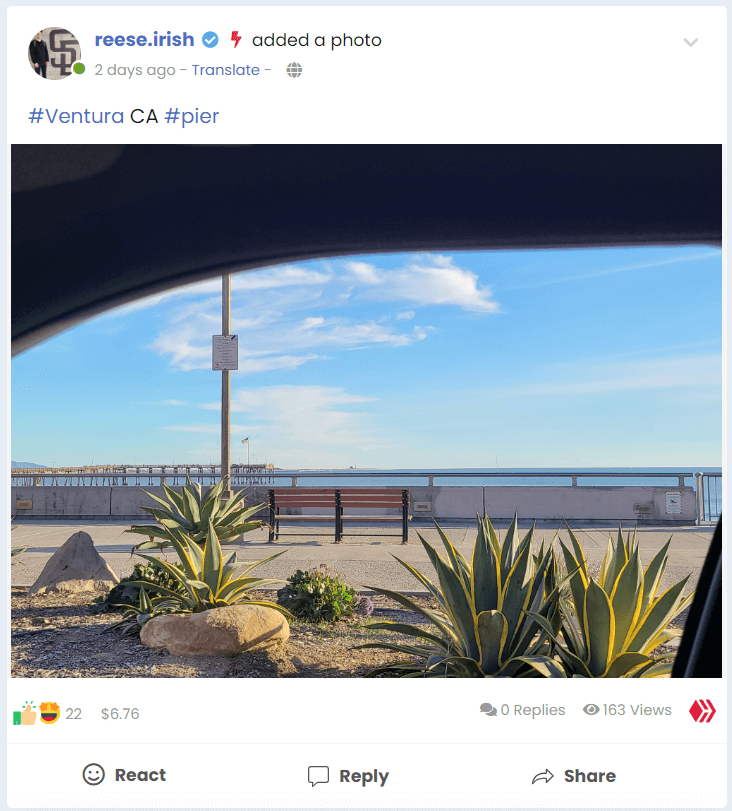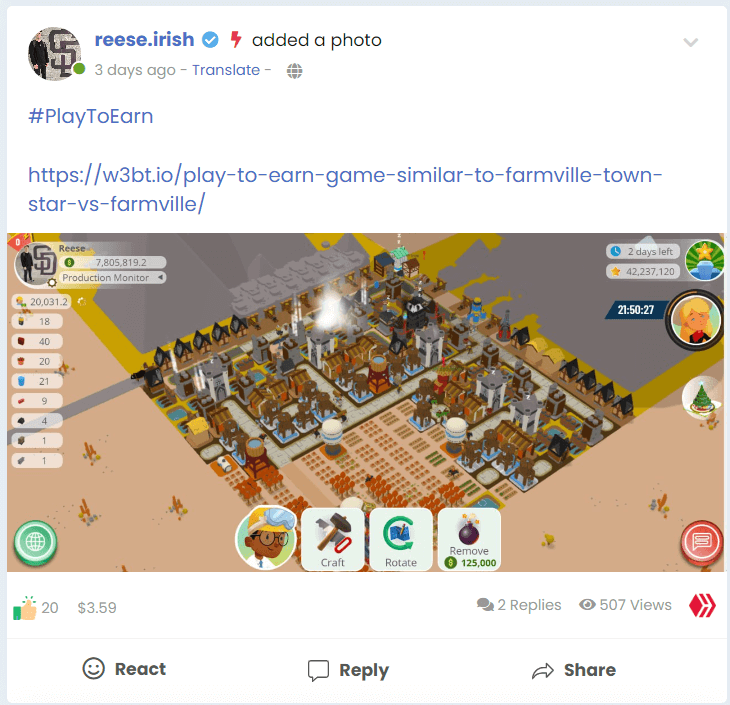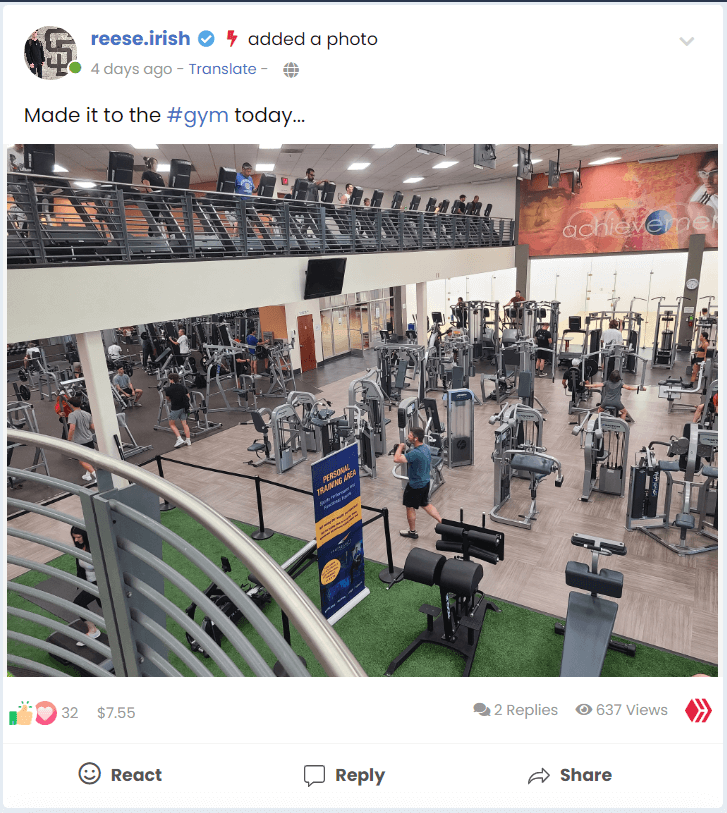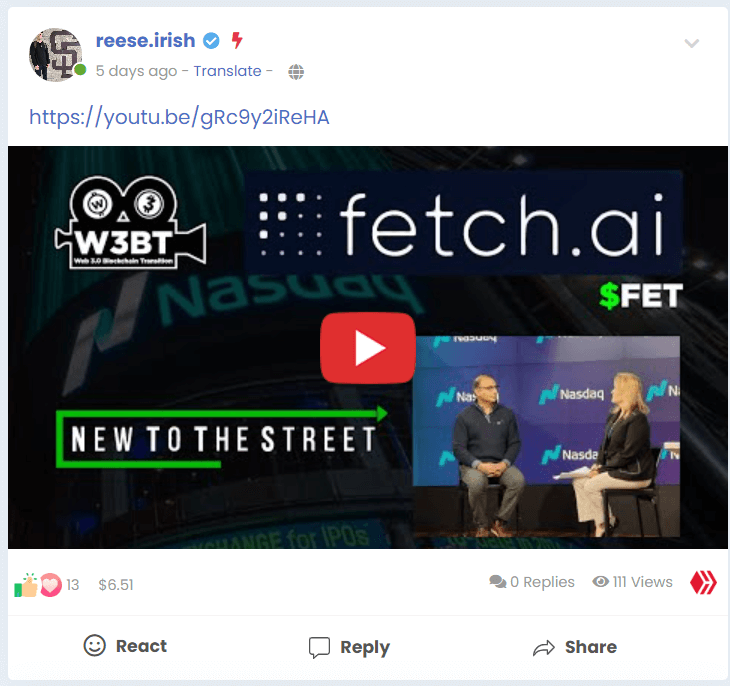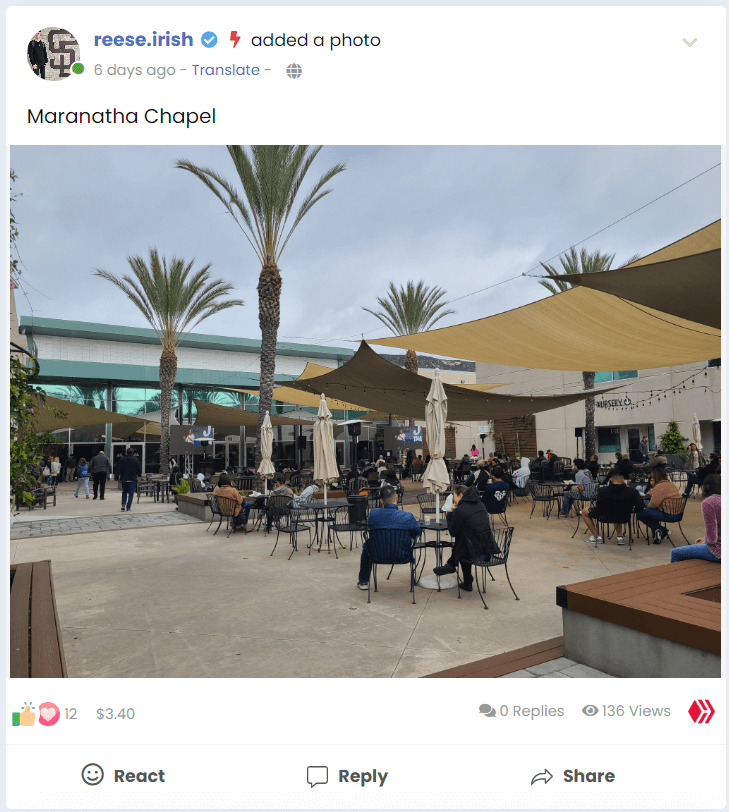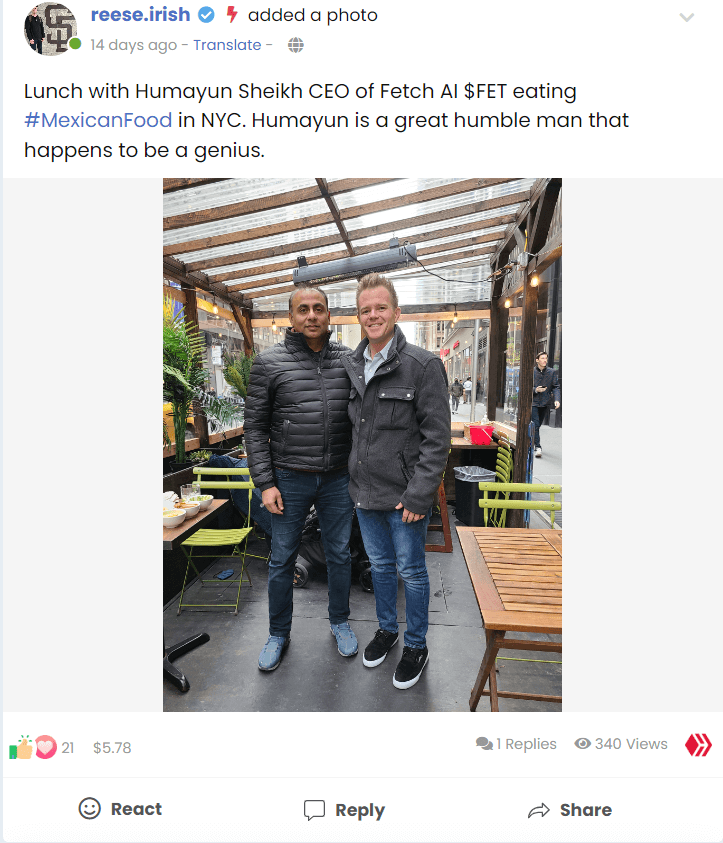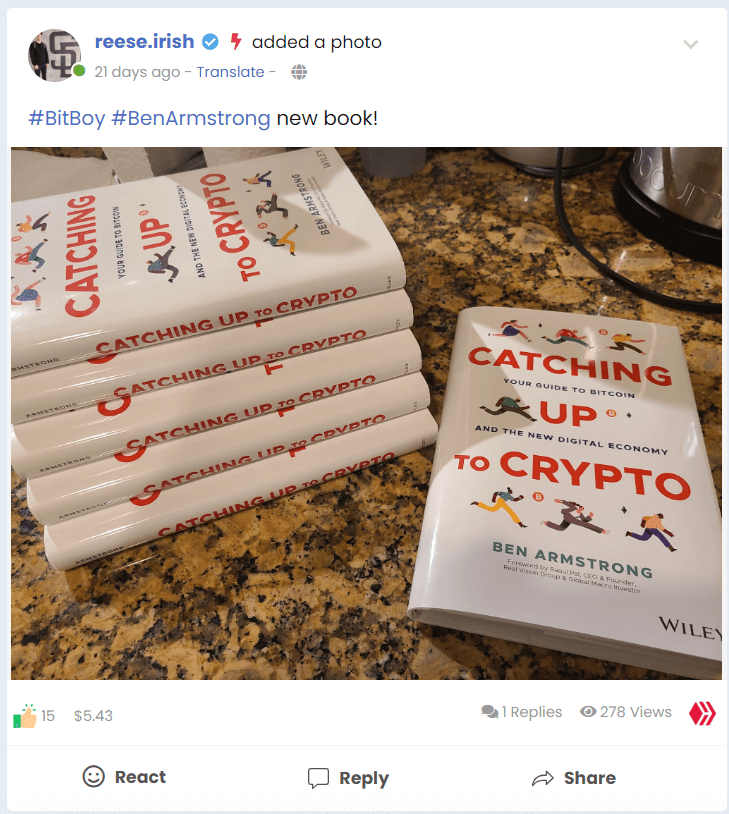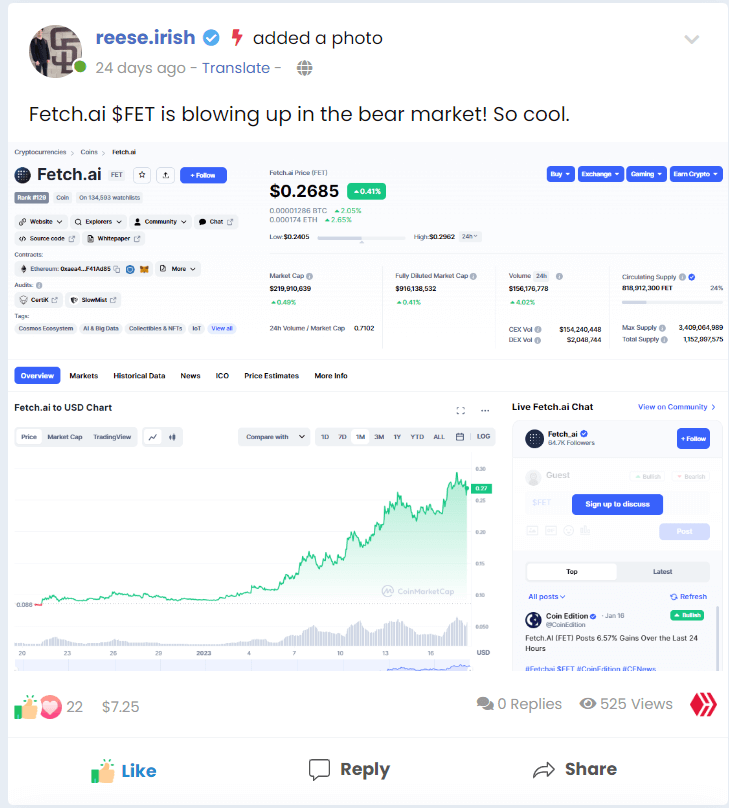 How Do I Earn Money From My Posts, Likes, & MY Time Spent On Social Media? | SoMee Social $SME Token
Step 1: Signup and Register for FREE here.
Step 2: Set up your personal profile by adding your name, profile picture, etc..
Step 3: Set up your digital Hive wallet with Ecency & link it to your SoMee Social profile.
(your Hive username upon login is your $HIVE wallet public address) mine is; "reesemirish").
Step 4: Post "What's on your mind?" on your timeline feed just like Facebook.
Step 5: Add friends  
(I am reese.irish on SoMee) 
Step 6: Watch your $SME balance increase as you get & give likes.
Step 7: Go through the prompts to withdraw your earnings.
Step 8: CASH OUT! Buy & sell $SME on the Hive DEX (decentralized exchange) Called; "TribalDex".
What Is The $SME Token?
…..The SoMee Social Currency
The SoMee SME Token, will be one of the prominent cryptocurrencies of the future.
Today it $SME is incredibly undervalued and current buyers should see wild gains in the near future.
SME is currently worth fractions of a penny. This wont last long and speculatively will be worth $0.05 soon.
As a result, $SME is a great currency to invest in at the ground level.
My opinion is, it will be $1.00 within 1 or 2 years.
Early Adopters Earn Big With SoMee Social SME Token
Early adopters earn at a high rate only possible now and for a limited amount of time.
In the near future, it will be impossible to earn at the rates people are getting now (seen below).
Earning Example:
Take my post from above for example.
It earned $12.98 USD in SME @ $0.0002409.
That is 53,881 $SME tokens.
When $SME goes to$0.05 that's $2,694 USD.
When $SME goes to $1.00 that's $53,881 USD.
Just from ONE SoMee Post!
SoMee is currently underground and is in beginning launch mode. As a result, the earning rates are massive right now for early adopters.
Just like early investors of Apple or Facebook.
Sign up and register for free soon. You can only earn like this right now.
Moreover, earning like this is only going to last for only a short period.
(Look at the date of this post at the top of the page).
There are currently 25K-30K monthly SoMee users right now. As a result, users are currently earning SME tokens at a much higher rate because $SME currently has a relatively low demand.
Once SoMee Social hits mainstream you won't be able to earn like you can now. So don't miss out and sign up today.
As more users join the platform, $SME earning rates will go down because the demand will go up.
But, the USD rewards will still be high even when it hits mainstream because the price of $SME will go up. 
As a result, you still earn good USD value of $SME, even when there are +150 million users.
Make Real Money On The SoMee Social $SME Token Platform
The First Big-Time Blockchain-Based, Decentralized Social Media Platform
Many people say social media is a waste of time.
Not on the SoMee Social platform, because you earn SME tokens for your social media activity.
People around the world are making a living and/or extra income by giving into their social media habits.
Moreover, this social media platform gives social media lovers purpose and opportunity to make money from home.
When I say you make money on the SoMee platform I do not mean through advertising. You make money as a regular user by posting sharing and liking posts.
You already do it on other social media platforms (Twitter, Facebook, Instagram…).
The only difference is those centralized social media platforms get rich from your private data and you as a user earn nothing.
Check out this case study about a single mother in Venezuela who made real-life money on the SoMee Social platform: View Case Study
What Is The SoMee Social SME Token Platform Again?
SoMee Social is the blockchain based social media platform of the future. It's like facebook minus all the privacy infringements. The SoMee platform is built on the blockchain and has its own economic system based on its own cryptocurrency called the ONG token.
This social media platform is similar to facebook but it has a cryptocurrency wallet that can send, receive, hold and exchange any cryptocurrency. Furthermore, people can earn money on SoMee Social by posting, getting likes, sharing and liking posts. Consequently, users make money simply by spending time and being active on this particular social media platform.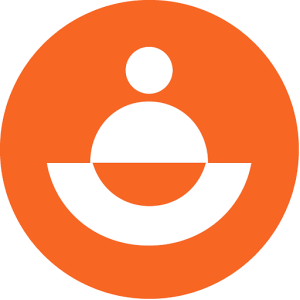 Does SoMee Social SME Token Keep My Information Private?
There is no privacy infringement on this platform. Facebook made the big mistake of infringing on its users' privacy. As a result, they lost the trust of many people around the world. SoMee learned from Facebook's mistake. As a result, respects your privacy.
SoMee Social ONG has no interest in trespassing on its user's privacy because trust is crucial for growth. The SoMee platform makes its users successful and gives them an opportunity to be a part of the Web 3.0 Blockchain Transition. Consequently, people who start using the platform now will be ahead of the curve when the mass adoption of blockchain and cryptocurrencies occurs.
Furthermore, SoMee plans to have a Privacy Dashboard and ad share market place where users themselves will decide what data is shared with advertisers. Also, SoMee will allow SoMeeians to turn ads off if they don't want them.
Edited by: Aaron Kesel
Note: I buy, sell and hold the $SME token when I see fit.
Disclaimer: I introduced SoMee (SME) to FMW Media for TV exposure and was compensated in SME tokens. I hold SoMee's SME tokens and may sell when the price is higher. As for now I am holding and buying SME on occasion. Sometimes I sell small amounts.